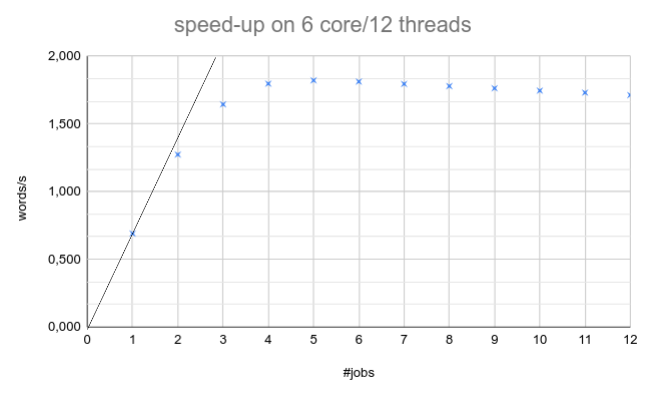 I am running a parallel program on an AMD Ryzen 5 3600, it has 6 cores and 12 threads. 12 is also the number of capabilities determined by GHC.
You see a linear speed-up only for a number of 2 parallel jobs. Already the third job, while adding a decent speed-up, is way below my expectation. At 5 jobs I already hit the wall and from there, performance just decreases in absolute terms.
My parallel code is actually quite straightforward in the sense, that I really have independent computations:
nj <- getNumCapabilities
putStr $ "\nRunning " <> show nj <> " jobs.\n\n"
hFlush stdout

-- `ls :: [Text]` is a list of 2 million hyphenated words
mvarLs <- newMVar ls

let
    loop rs = do
        mJob <-
            modifyMVar mvarLs $ \ls' ->
                pure $ case ls' of
                    [] -> ([], Nothing)
                    (j : js) -> (js, Just j)
        case mJob of
            Just hyph -> do
                -- `parseWord` is the runtime intensive function that is being
                -- run in parallel on 2 Million words
                p <- parseWord hyph
                p `deepseq` loop (p : rs)
            Nothing -> pure rs

-- parallelism as straightfoward as it could be: run `nj` concurrent jobs
-- to tackle the list of 2 Million words and accumulate the result
lsStenos <- mconcat <$> replicateConcurrently nj (loop [])

I tried a couple of things in order to find a better speed-up, but my results where identical to a scary degree:
compiling with and w/o -threaded. I don't know why, but -threaded is entirely optional, contrary to the documentation. +RTS -N should only have an effect with threaded, which is not true. EDIT, w/o threaded, indeed ghc complains
limiting the gc threads to 1 witgh -qn1
limiting the gc threads to half the number of jobs
running with +RTS -qa: "Use the OS's affinity facilities to try to pin OS threads to CPU cores."
varying the allocation area size of the gc, e.g. +RTS -A64M (cf. documentation)
switching between GHC 8.8.4 and GHC 8.10.7
activating --nonmoving-gc (requires GHC 8.10)
have each job take 100 words at once instead of 1, to avoid waiting for the lock
My expectation is a speed-up all the way to nj = 12, sublinear because of gc overhead. A more-or-less linear speed-up up to nj = 6 would be logical if the number of actual cores is more important than AMD's hyperthreading capabilities.
Is there an important measure I have overlooked? Are my expectations wrong maybe? Is my concurrent implementation suboptimal?
---
If someone wants to actually try out the code to play around with the parameters and run it on their machine, just give me a hint whether you use stack or nix or whatnot and I'll pass over a package.