Hi Haskellers!
My name is Artin, I'm an Iraninan and I've been a Haskeller for about 17 months now. Haskell and purely functional programming changed the way I think about computation. From the moment I started to learn about it, there hasn't been a single language that I've loved and wanted to see/help grow more than Haskell. Unfortunately, 2 days ago, I realized that I couldn't open hackage, haskell wiki or cabal without a VPN (I get a 403 status code from hackage). But stackage, this site and hoogle still work. I don't know the reason for it; I don't know if this is another sanction upon us like Google's developer platform or another censorship that is happening by Iranian government. Because of all the things that are happening in Iran right now, our internet connection is terrible at best and we are not even able to connect to a VPN.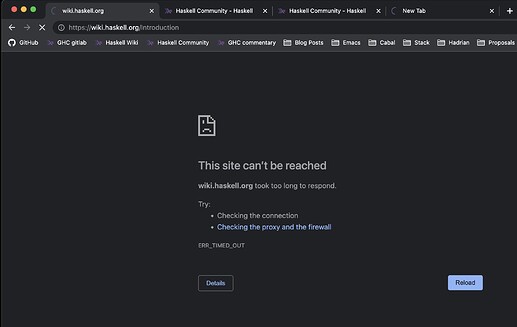 If this situations stays the same, there's a chance that Iranian Haskellers, however small in quantity, wouldn't be able to use their favorite programming language anymore. No matter how much I searched, I haven't been able to find a single Haskell job in Iran; so I'm pretty much sure that all of us are using/contributing to Haskell in our free time.
Yesterday I was reading @simonpj 's post about Haskell Community and I agreed with every single of one them. If there's a single thing you can do about this situation, me and other Iranian Haskellers would appreciate it more than you think.
Thank you,
Artin